Latest News
01.05.17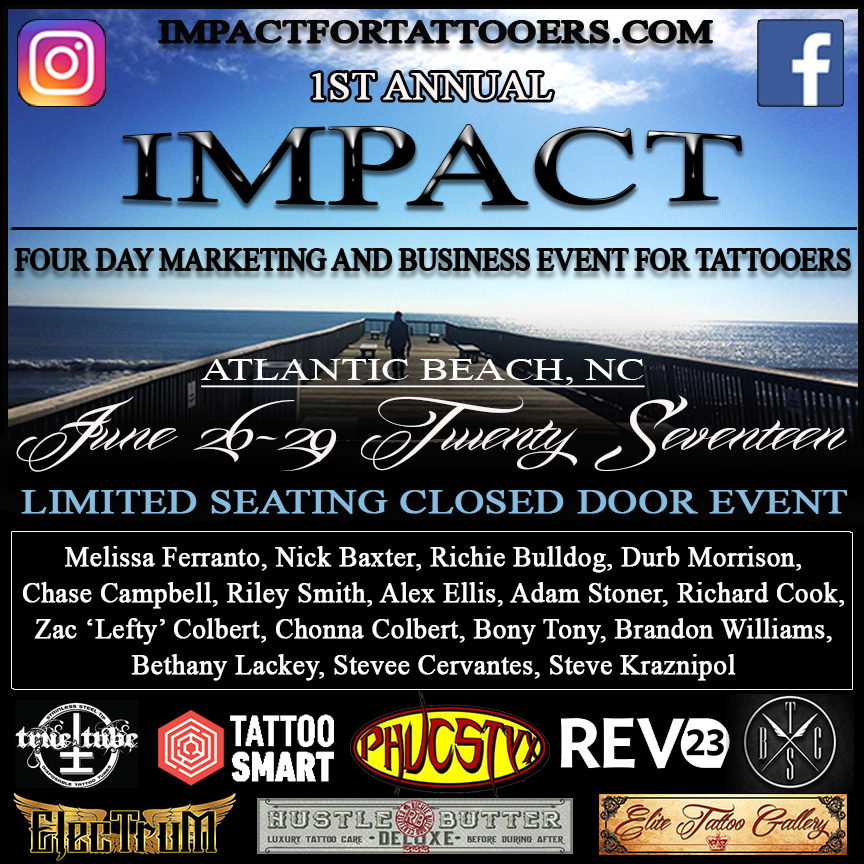 Check out the event on Instagram @impactfortattooers
12.06.16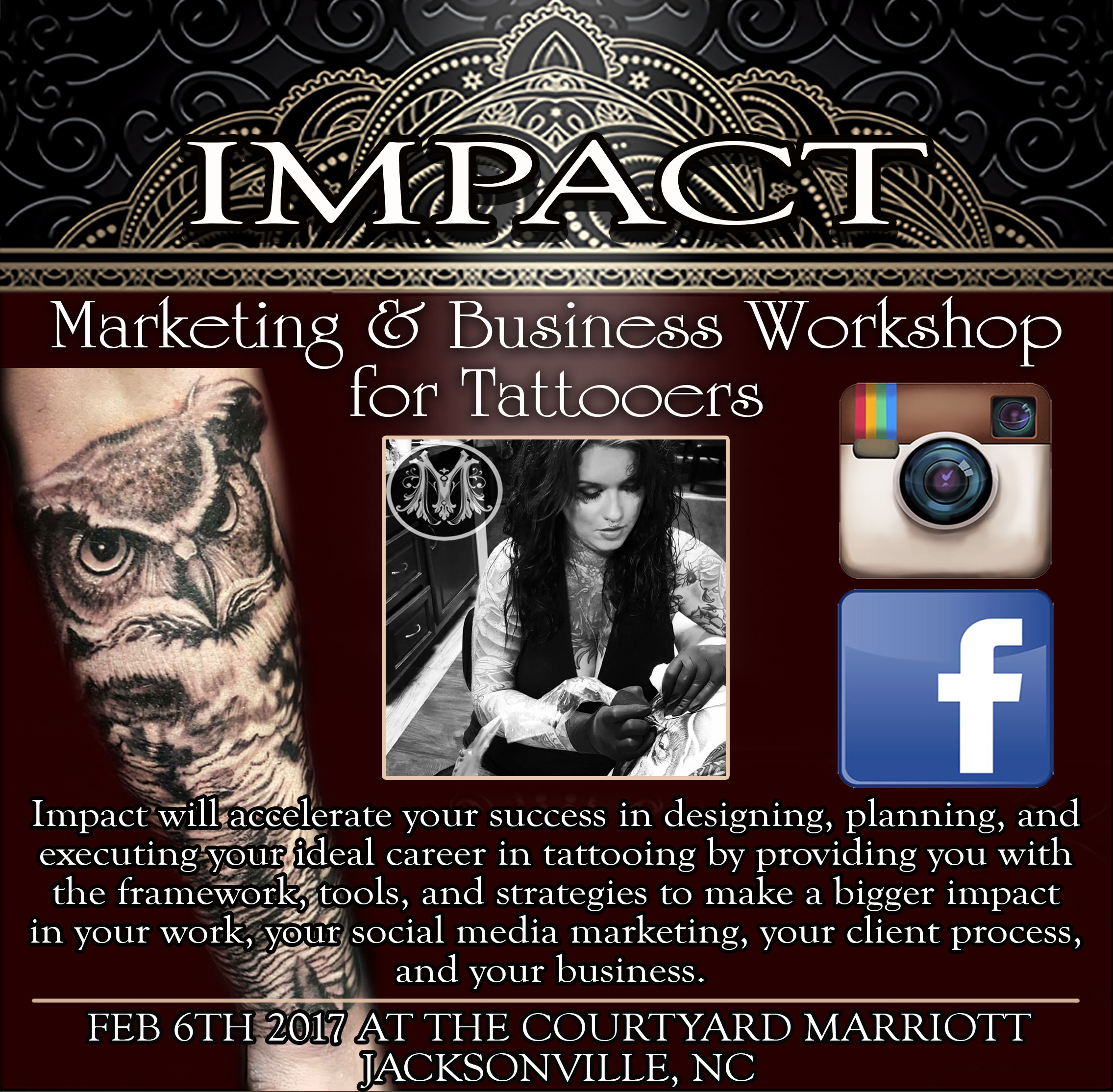 We are very excited to present this all day workshop again February 6th in Jacksonville, NC at the Courtyard Marriott. Impact will accelerate your success in designing, planning, and executing your ideal career in tattooing by providing you with the framework, tools, and strategies to make a bigger impact in your quality of work, your social media marketing, your client process, and your business. We have designed this workshop to be beneficial to tattooers of all experience levels, as well as shop owners. We will be accepting no more than 20 attendees. For inquires or sign ups, please email impactfortattooers@gmail.com. Thanks!
TESTIMONIALS
"This information will benefit my future positively, professionally, and personally. I didn't know how much I didn't know about the industry. It was an eye opening experience and the most informative seminar I've ever seen." - Akos Strenner, tattooer, 10 years, London, UK
"This will benefit me in a further understanding of social media and will help me get the kinds of clients I want, thus allowing me more creative freedom. The most helpful part was about conditioning my clients. It's been a struggle for me to figure out how to get the clientele I want and weed out the rest. As a future shop owner and tattooer, I felt like so much was covered that you would've had to figure it out yourself. I look forward to building my ideal business and clientele with all this knowledge." - Bianca Sky, tattooer, 3 years, Red Rabbit Tattoo Asheville, NC
"This was very useful with so much information and resources for professional growth. This will help me now and in the future to be a better professional, a better artist, and better shop owner. I really liked the section on client conditioning, it's always been hard for me to come up with a good system for that. She showed many paths to follow. I would recommend this to all of my friends." - Felipe Xavier, tattooer and shop owner, 4 years, Ink33 Tattoo Studio, San Paulo, Brazil
"The Impact Workshop was one of the best seminars I've ever taken. It was informative, easy to understand with clear cut direction on how to put everything into action. It's exactly what I needed to elevate my business. Very clear and direct information." - Bethany Lackey, tattooer, 3 years
"This will completely change the way I do everything. The most helpful section was social media marketing. I had no idea there were so many ways to market yourself and gain exposure for the type of work I want to do. The professional growth section was also fucking amazing. I had no idea how much I needed this, especially to progress as an artist and set goals I never thought I'd be able to achieve." - Sterling Grice, tattooer, 8 years
"It's very enlightening to see such an evolved perspective of business management. A game changer." - Gabriel Luna, tattooer, 4 years, Medellin, Colombia
"I came into this seminar not knowing what to expect, but after experiencing it, so many things are relatable and educational, even if you aren't a tattooer. Marketing was the most helpful because it gives you a full how-to step by step." - Stevee Cervantes, aspiring microblading tech
"This will benefit in better management of my advertising and organizational skills to bring in more business. It's straight to the point. It was the most in-depth seminar I've ever taken and extremely insightful." - Chase Campbell, body modification artist, 10 years, West Virginia
"I actually thought about quitting tattooing before taking this workshop." - Shane Prater, tattooer, 2 years
"In our ever growing industry and our ever increasing presence on mobile devices and social media, it is imperative to have this information in order to maximize our exposure." - Stephen Taylor, tattooer, 14 years
"The professional growth section was motivating and really lit a fire right under my ass! I loved the workshop because it isn't just applicable to tattooers. As a studio manager, tattoo removal specialist, and aspiring permanent make-up artist, this is hands down the most important seminar I could have chosen to take. Super motivating and the systems explained are thorough and well thought out." - Brittany Bose, studio manager, removal specialist, and aspiring permanent make-up artist, 3 years
"I felt that it was very informative and helpful to all tattooers. She covers multiple aspects in the industry to help grow yourself and your business. I would recommend this class to anyone wanting to better themselves from a business standpoint." - Chonna Colbert, co-owner of Infamous Ink, Waco, TX
"The workshop was extremely useful. Game changing. The information will help me in everything I do and also prepare me for when I open my own shop.100% likely to recommend. There's nothing she didn't cover. Anytime she covered something I already knew, she went right into something I didn't. I feel like everything I've learned can be easily applied and definitely help me to better myself and my career." - Ryan Jenkins, tattooer, 8 years, Hart & Huntington Tattoo, Las Vegas, NV
"The workshop was a great experience for me in the entire business aspect.This will benefit my future tremendously. There's a lot I learned that I can use from branding, to consultations, to cultivating a return clientele." - Susy Jenkins, assistant to tattooer Ryan Jenkins
"This will definitely make everything easier, less stressful, and more productive. Everything was so informative and I can't wait to start applying it!" - David Riley, tattooer, 8 years, Blu Gorilla Tattoo, Charleston, SC
"I'm going to go back and share this with my entire shop. I had a great time taking in the knowledge of other artists, shop owners, and how they make their businesses run well." - Nick Read, tattooer and shop owner, Lucky Cat Tattoo Studio, Bridgewater, MA
"I'd been thinking about parts of this conceptually, but this workshop really helped to put it all in perspective and bring it full circle." - Nicholas Gagnon, tattooer, The Holy Mackerel, St. Paul, MN
"Everything I learned will gear me towards being a better piercer, not only for me, but for my clients. The workshop was extremely thorough. I would recommend this seminar to ALL of my friends" - Jessica Carr, body piercer, 1 year
"It was extremely useful, especially to someone just starting off in the industry. It was a beautifully crafted workshop. Anyone could take something from this." - Dani Dregs, tattoo apprentice
07.13.16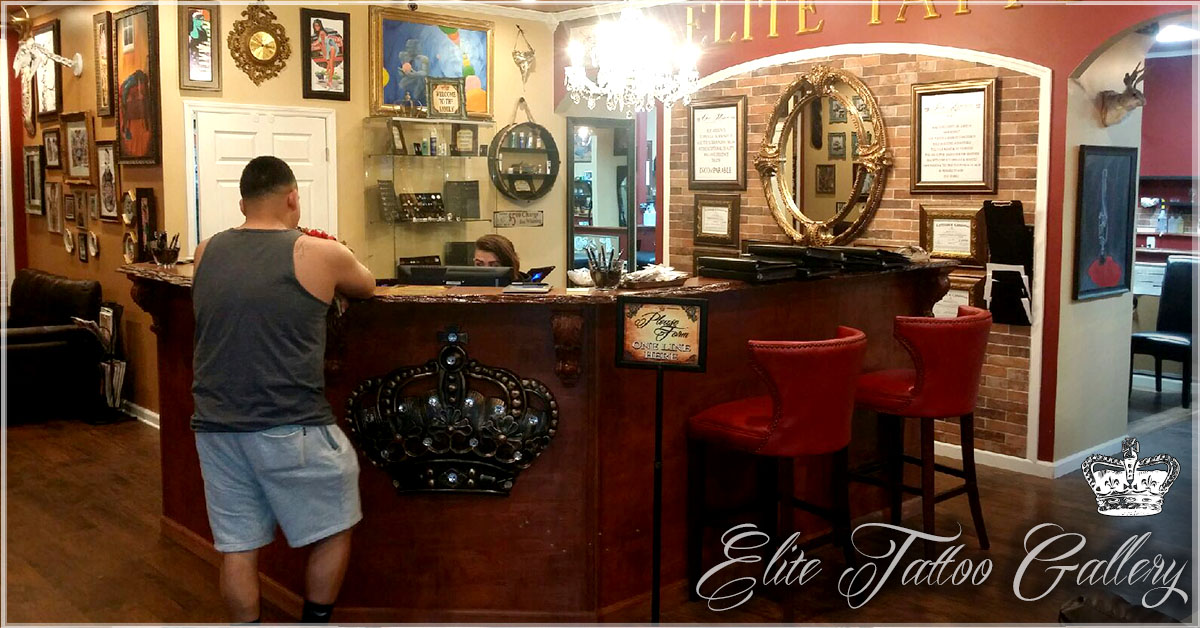 The new location at 435-A Western Blvd. is now open! Finally! We are also booking guest artists for Summer and Fall of 2017, if interested in a spot, please email melissaferrantobooking@gmail.com with a link to your portfolio. Thanks for stopping by my page!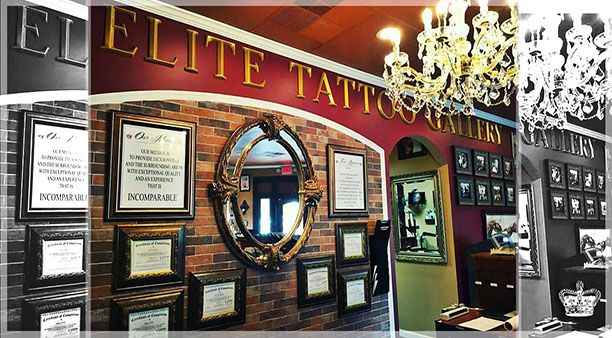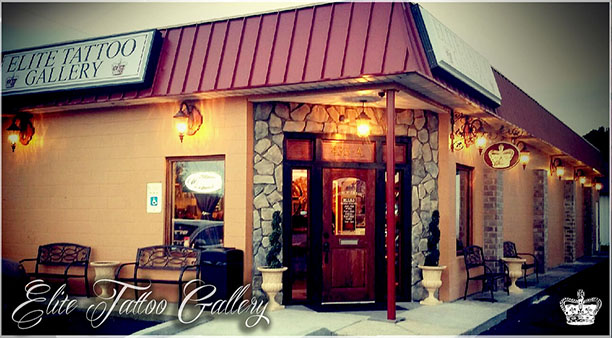 View more »