02.10.17
2 DAY IMPACT MARKETING & BUSINESS WORKSHOP MAY 16-17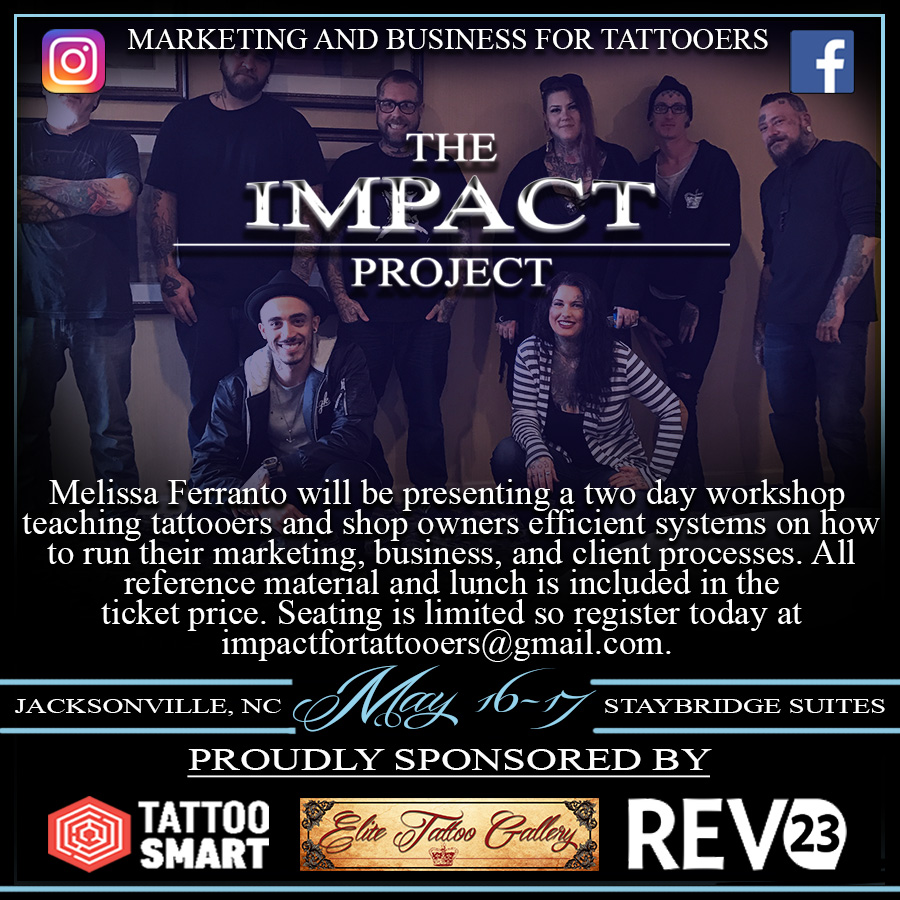 TESTIMONIALS
"I loved it! The social media section and client experience really spoke to me. I feel I will be able to integrate the tools here to streamline my process and boost my productivity without sacrificing massive amounts of time. The tools provided are things I didn't think to implement. Also 'client conditioning' was fucking magical. I came into this seminar with a great grasp on how to do things, but the things taught within this are a game changer. It doesn't matter how much you 'think' you know, this course is PURE GOLD!!" - Mike Shultz, tattooer, 7 years, Ink Therapy, Indiana
"This information will benefit my future positively, professionally, and personally. I didn't know how much I didn't know about the industry. It was an eye opening experience and the most informative seminar I've ever seen." - Akos Strenner, tattooer, 10 years, London, UK
"This was much more useful than I expected. Reverse engineering, Instagram, and Facebook marketing stood out to me the most. The marketing in this course will be beneficial in gaining new clients and gaining more of the style of work that I'm interested in doing which I believe will give me more satisfaction in my art. Instagram and Facebook were the most helpful. I thought in just posting pictures that I was utilizing the sites. After today, I realized the full potential of the sites and the response and gains I can acquire. I talk, consult, design, draw, tattoo and post... IM DOING EVERYTHING I SHOULD (at least I thought). After taking this seminar, I realized I'm only preforming at half capacity. If you take the information and 'work it' I believe the change will be huge! The change in networking, marketing and execution will benefit the income and freedom we can have from the career that we love. I recommend this workshop to anyone in the business." Kenny Slone, tattooer, 15 years, Ink Therapy, Indiana
"This workshop has totally changed the way I will market in the future. I am going to school for business, been to seminars, and studied [marketing] and didn't have half the knowledge. Three years of studying on my own didn't equal one day in the Impact Workshop. The social media marketing was way more in-depth than I could have hoped for. It definitely made me reevaluate the way I present myself to my clients. I feel in the next 3-6 months my client base will double and ensure more return clients. I felt I had a grasp on everything and was doing a great job, but I was proved very very wrong. 100% likely to recommend and intend on taking this course again." – Nathan Paul, tattooer 2 years, Fayetteville NC
"The experience I had in the Impact Workshop was not what I expected. It was well thought out and incredibly insightful on issues I had no answers for I would highly recommend it to any artist interested in advancement and furthering their career. I feel my long term goals can now be achieved by the vast amount of knowledge gained from this seminar. The section about social media benefits was very eye opening and has incredibly helpful tools I intend on using. I did not think that the proper use of social media could be so beneficial to the success of an artist." – Robin Wilcoxson, tattooer 13 years, Richmond, VA
"I learned a lot in this seminar. There was very detailed, easy to follow, and informative information. I never understood how much Facebook had to offer until this seminar. I feel the information given will help my daily workflow and growing my client base for future work. I found the social media section the most helpful due to my previous lack of knowledge of running Facebook like a business rather than an art portfolio. Melissa is a very professional, modern day business owner. She helps tattooers grow with the modern day technology and understanding their uses on the highest level. Would recommend to 10/10 tattooers if you are looking to further your business growth and run a more professional atmosphere. Nick McNulty, tattooer, 8 years Ink Therapy, Indiana
"The approach was great. It was set up in an easy to understand format which I think I can put into use with ease. Social media and planning were the most useful to me. Booking and scheduling is what I've had the hardest time with, so I think this will make a huge difference and be an advantage for me. I don't think there was any aspect that I won't use in the future. It shows great ways to access new clients. Working Instagram and Facebook was the most helpful. I think it will prove to be a great asset to the business and help grow my shop into something more than I ever could without this seminar." – Eddie Williams, tattooer 29 years, shop owner of Wicked Skinsations, Lumberton NC
"This will benefit me in a further understanding of social media and will help me get the kinds of clients I want, thus allowing me more creative freedom. The most helpful part was about conditioning my clients. It's been a struggle for me to figure out how to get the clientele I want and weed out the rest. As a future shop owner and tattooer, I felt like so much was covered that you would've had to figure it out yourself. I look forward to building my ideal business and clientele with all this knowledge." - Bianca Sky, tattooer, 3 years, Red Rabbit Tattoo Asheville, NC
"This was amazing. I definitely enjoyed the social media and scheduling part. I was encouraged by the tattooer/client relationship. That definitely stood out. I hope to apply what was presented ASAP and looking forward to it.I know it will benefit me by better organizing and disciplining areas I know little about. Currently my struggle has been understanding the 'new' marketing strategies that social media has to offer, how to utilize it and make it effective as this can help create a buzz. I understand better how to schedule returning and new clientele and start the growth I'm looking for. This workshop has, and will affect the growth of my career for the rest of my life. Very excited to put into action what I've learned here." Bradford Smith, tattooer, 9 years Ink Therapy, Indiana
1ST Attendance "This was very useful with so much information and resources for professional growth. This will help me now and in the future to be a better professional, a better artist, and better shop owner. I really liked the section on client conditioning, it's always been hard for me to come up with a good system for that. She showed many paths to follow. I would recommend this to all of my friends."
2nd Attendance "This was the second time I did the workshop and it's far better than the first one, like a whole new seminar. It was easy to understand with specific things to apply to your professional, personal, artistic growth. My organization, advertising, and taking care of my clients, employees, and my shop will all be so much easier after taking this seminar. It's the most insightful one I've ever taken. It was extremely useful. All parts were very important but I identified with the professional growth section the most. It shows how much more productive I can be and how important it is to organize my plans and my studio. I feel like the information will take the work I'm doing now and help me to change things for the better. This seminar was a river of knowledge." - Felipe Xavier, tattooer and shop owner, 4 years, Ink33 Tattoo Studio, San Paulo, Brazil
"Very useful!!! Wow, honestly, it's hard to say what seemed most useful. I felt that it covered areas that someone doing it for a while would look past or not want to adapt to, as well as basics that could be applied in all areas of your life, not just tattooing. But mostly you learned about using time and technology to help calm your schedule and be more efficient so you get the lifestyle you look for out of tattooing while still being professional. It takes away a lot of the hard work it takes to figure out things that will increase your return clientele and get new clients through marketing correctly! She takes the hard work out and makes it step by step so clearly laid out it will basically save you years of work trying to figure out and know the most effective way to do it. The use of Facebook advertising was most helpful. I know we have a huge following on there, but felt I wasn't reaching then enough, basically, just doing what everyone else was, the basics...Now for a low cost, I feel like I can get good content out there and reach more people more quickly!! I think that everyone who is beginning tattooing, and definitely anyone who's thinking about opening a shop, this is MANDATORY to teach you with a lot less worry and help you save money, run a smooth and efficient shop, and get the clients you need! I have taken a lot of great classes, with this one being one of my favorites and one I got the most out of! The breakdown of this was easy to follow and actually lets you see how to do it, not leaving you wondering what to do with a great idea. I mean, if you can't leave here with this binder and apply these steps, you're simply not trying!!!! Great information." Chris Taylor, tattooer 26 years, owner of Ink Therapy Tattoo Indiana, promoter of Days of the Dead Tattoo Expo Louisville, KY
1ST Attendance "The Impact Workshop was one of the best seminars I've ever taken. It was informative, easy to understand with clear cut direction on how to put everything into action. It's exactly what I needed to elevate my business. Very clear and direct information."
2nd Attendance "This is my second time taking this workshop and it was even more motivational to hear the new additions. The content is laid out in an easy to digest format making it clear which steps I need to take to reach my goals. This was a game changing experience. 100% would recommend to anyone looking to elevate to the next level. The client experience and how to run a wait list really stood out to me and gave me clear cut goals to work towards. IT's a direct game plan to engineer my career to exactly what I want it to be." - Bethany Lackey, tattooer, 3 years
"This will completely change the way I do everything. The most helpful section was social media marketing. I had no idea there were so many ways to market yourself and gain exposure for the type of work I want to do. The professional growth section was also fucking amazing. I had no idea how much I needed this, especially to progress as an artist and set goals I never thought I'd be able to achieve." - Sterling Grice, tattooer, 8 years
"It's very enlightening to see such an evolved perspective of business management. A game changer." - Gabriel Luna, tattooer, 4 years, Medellin, Colombia
"As a promoter and business owner, I found the information very helpful. For me, the marketing areas defined what I needed the most help on. The Facebook section was the most helpful. I felt that it really helped me to fully understand how to better promote and track who I'm reaching. I wasn't sure what to expect. The social media promotion areas were exactly what I was looking for advice on. As a business owner, the organization aspects will also help me take full advantage of opportunities. I would definitely recommend this. Scott Medjesky, show promoter, Days of the Dead Tattoo Expo, Louisville KY
"I came into this seminar not knowing what to expect, but after experiencing it, so many things are relatable and educational, even if you aren't a tattooer. Marketing was the most helpful because it gives you a full how-to step by step." - Stevee Cervantes, aspiring microblading tech
"This will benefit in better management of my advertising and organizational skills to bring in more business. It's straight to the point. It was the most in-depth seminar I've ever taken and extremely insightful." - Chase Campbell, body modification artist, 10 years, West Virginia
"I actually thought about quitting tattooing before taking this workshop." - Shane Prater, tattooer, 2 years
"In our ever growing industry and our ever increasing presence on mobile devices and social media, it is imperative to have this information in order to maximize our exposure." - Stephen Taylor, tattooer, 14 years
"As a piercer, I still learned a lot. Social media was the best for me. This would be a great source of info if I ever opened a shop. The social media aspect will help a lot. There were lots of things I wanted to gather info on that were given to me- being able to create ads and hopefully bring me more business. This was a lot of fun and great ideas for business owners." Matt Vermillion, body piercer, Ink Therapy, Indiana
"The professional growth section was motivating and really lit a fire right under my ass! I loved the workshop because it isn't just applicable to tattooers. As a studio manager, tattoo removal specialist, and aspiring permanent make-up artist, this is hands down the most important seminar I could have chosen to take. Super motivating and the systems explained are thorough and well thought out." - Brittany Bose, studio manager, removal specialist, and aspiring permanent make-up artist, 3 years
"I felt that it was very informative and helpful to all tattooers. She covers multiple aspects in the industry to help grow yourself and your business. I would recommend this class to anyone wanting to better themselves from a business standpoint." - Chonna Colbert, co-owner of Infamous Ink, Waco, TX
"The workshop was extremely useful. Game changing. The information will help me in everything I do and also prepare me for when I open my own shop.100% likely to recommend. There's nothing she didn't cover. Anytime she covered something I already knew, she went right into something I didn't. I feel like everything I've learned can be easily applied and definitely help me to better myself and my career." - Ryan Jenkins, tattooer, 8 years, Hart & Huntington Tattoo, Las Vegas, NV
"I feel very prepared for a strong career. The main long term thing I feel I'll carry with me is the importance of being well put together. The whole professional growth section was the most helpful. I am an apprentice so the best thing for me is knowing how to get a head start. Honestly everything talked about today has had a major impact on how I will plan my future." Josh Jackson, tattoo apprentice, Ink Therapy, Indiana
"The workshop was a great experience for me in the entire business aspect. This will benefit my future tremendously. There's a lot I learned that I can use from branding, to consultations, to cultivating a return clientele." - Susy Jenkins, aspiring shop owner
"This will definitely make everything easier, less stressful, and more productive. Everything was so informative and I can't wait to start applying it!" - David Riley, tattooer, 8 years, Blu Gorilla Tattoo, Charleston, SC
"I found this seminar very helpful. I just started as a shop manager so the social media and marketing helped a lot and gave me a lot of tips I plan to use. As an apprentice, it made me think more about who I want to be as an artist and long term goals that I never thought of before. I think this information will help me do more and better promoting for the shop. I think the time management and reverse engineering will help me through my apprenticeship and how to get where I want to be as an artist. Reverse engineering stood out to me because I have so much going on and a lot of goals and I think using that technique will help me know where to start and how to achieve my goals. Also, the Instagram and Facebook sections stood out because I just started running Ink Therapy's accounts and didn't have much knowledge on it. As someone just starting out in this industry as an apprentice and shop manager, the foundational information and marketing info helped me a lot. I feel like I can take a lot from this to build structure and help me reach my goals. As a potential future shop owner, it gave me a lot of basic insight on business that I didn't know or understand before. I'm working on building my first portfolio and took a lot from this seminar to help with that and also made me start to think of WHO I want to be as an artist. I highly recommend this seminar because I definitely took a lot from it that I never even thought of and that I feel will help me contribute more to the shop and help me reach my goals faster and be more productive!" Cierra Taylor, shop manager & apprentice at Ink Therapy Tattoo, Indiana
"I'm going to go back and share this with my entire shop. I had a great time taking in the knowledge of other artists, shop owners, and how they make their businesses run well." - Nick Read, tattooer and shop owner, Lucky Cat Tattoo Studio, Bridgewater, MA
"I found it very useful! I know I will use a lot of this in the future. I like how it was put together to be up to date and modern. I noticed a lot of the other stuff I've read has been outdated. I know this will help me with creating more clientele and keeping them organized. Instagram and Facebook were most helpful. I feel it will help me a lot at the point my career is at- helping to reach more people. It was very personal and well put together. I learned a lot more than I thought I would." Garret Hudson, tattooer, 4 years, Ink Therapy, Indiana
"I'd been thinking about parts of this conceptually, but this workshop really helped to put it all in perspective and bring it full circle." - Nicholas Gagnon, tattooer, The Holy Mackerel, St. Paul, MN
"I found this very useful for not only the tattooing part of it, but because this all is really useful for everything. All the parts had step by step photos to help me a lot in understanding how to do things and it was helpful in learning how to handle customers. I think the workshop was great today. I liked the interaction with everyone while learning a lot at the same time. She made it fun. Everything that was taught today was very needed and helpful." Kaylie Taylor, tattoo apprentice, Ink Therapy, Indiana
"Everything I learned will gear me towards being a better piercer, not only for me, but for my clients. The workshop was extremely thorough. I would recommend this seminar to ALL of my friends" - Jessica Carr, body piercer, 1 year
"This seminar was very useful. Use of social media stood out the most. Time to get with the times! I will be able to use new methods to make my work life better. Social media was the most helpful. It gave me ideas to change the way I use it as well as made me want to use more than one platform. I had fun. I think it was very helpful and made me think more about my day to day work. I'm sure after I test some of the ideas I will see better results." Brad "Biggins" Warner, tattooer, 19 years, Ink Therapy, Indiana
1st Attendance "It was extremely useful, especially to someone just starting off in the industry. It was a beautifully crafted workshop. Anyone could take something from this."
2nd Attendance "This was my second time taking the Impact Workshop. Definitely an eye opening experience as far as learning what I could and should be doing to become a better artist and 'business person'. The professional growth meant the most to me because as a brand new tattooer it's crucial to me to know the proper steps to building a life out of a passion. It's nice to know I'll be on the right path and nice to learn how to stay on a positive path to attain my goals. I feel like this information will ALWAYS be relevant. Regardless of anyone's level of experience, this was such an inspiring and positive experience that no matter what, this can open your eyes to a new world of evolution and growth." - Dani Dregs, tattoo apprentice
"I found this seminar extremely useful. This gave me a fresh new perspective. I'm looking forward to better marketing my work and broadening my client experiences and relationships. I found it most helpful learning more about Facebook advertising, it's not something I use often. No matter where you are with your business, this is a workshop that will offer a lot to take with you. It's got everything from marketing and social media to an in-depth explanation of setting ads. Everything was very clear and concise. I enjoyed getting an in-depth look into her systematic approach to marketing through social media. At the end I felt extremely motivated!"- Laura Crawford, virtual assistant to tattooers and social media marketer
CONTACT AT IMPACTFORTATTOOERS@GMAIL.COM TO REGISTER